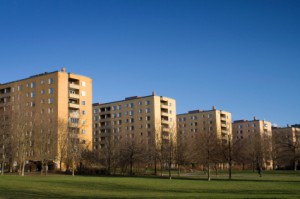 Our industry-focused professionals understand the complex nature of the affordable housing real estate environment. We specialize in audits financed by the U.S. Department of Housing and Urban Development (HUD), and Low Income Housing Tax Credit (LIHTC). Geltrude is also highly experienced in the cost certifications for newly constructed or rehabilitated HUD and IRS Section 42 properties.
Our integrated approach analyzes every aspect of a real estate transaction along with how each issue affects the business and owner objectives. In a world that is as complex as real estate, Geltrude can help you make sound business decisions to help you achieve your objectives. Geltrude has dedicated professionals who are passionate about helping our real estate clients succeed.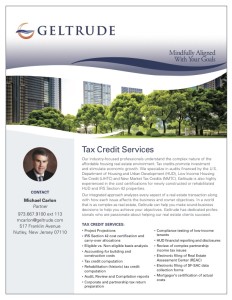 The Low Income Housing Tax Credit (LIHTC) is a form of indirect federal subsidy established to encourage and finance new construction and rehabilitation of existing housing for low-income households. This federal income tax credit, administered by the states, is available to qualifying project owners for a 10-year period, in addition to any assistance received through HUD's multi-family assistance programs. To qualify for the LIHTC, project owners must comply with the program's requirements for a 15-year period.
LIHTC Services include:
Project Projections
IRS Section 42 cost certification and carry-over allocations
Eligible vs. Non-eligible basis analysis
Accounting for building and construction costs
Tax credit computation
Rehabilitation (historic) tax credit computation
Audit, Review and Compilation reports
Corporate and partnership tax return preparation
Compliance testing of low-income tenants
HUD financial reporting and disclosures
Review of complex partnership income tax issues
Electronic filing of Real Estate Assessment Center (REAC)
Electronic filing of SF-SAC data collection forms
Mortgagor's certification of actual costs
Our Experience includes:
Housing and Urban Development (HUD) sponsored programs
Low Income Housing Tax Credit (LIHTC) projects
Syndicated tax credit properties
Federally funded projects
Multi-family developments
Housing authorities
Senior housing
Federal and state voucher programs
State funded programs